1997 Toyota Camry, XLE V6
This page was last updated sometime in 2003. It is now 2007. I still have my car. I will be updating this page soon. A lot of things have changed. All of those pictures were taken in California and I no longer live there. I also no longer have that interior blue neon. Or the Silverstars. Despite all this, my car looks virtually the same. Anyway be on the lookout for when I update this page. Thanks!

Greetings! This page is dedicated to my automobile. The title at the top tells you what kind of car it is. Beauty isn't he? I could be modest and say it's nothing special. Granted, compared to other show cars and hot rods, it's not. But to me, it is!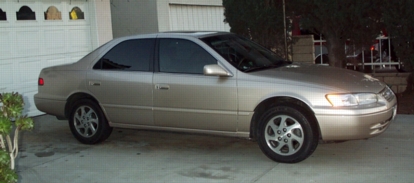 Story: This car was purchased on May 29, 2000. When we first went to the dealership, we were looking to buy an Echo. We wanted something that got great gas mileage. A car big enough to seat 5, yet small. At least that's what I though! After test driving the Echo, mom wasn't impressed. She wanted something bigger, more luxurious, and with POWER. The salesman showed us the Camry, and that was that. He made the mistake of telling my mom to make him an offer. After hours of fruitless negotiation, they finally gave in to my moms original offer. What a steal. :-)

After my mom realized I needed a car more than she did, she decided to let me have it. Complete with payments. <sigh> Now almost 3 years later, I've got a great car that's still running strong!

What's new: I bought something for my car and added a picture of it. Read about it below. Enjoy!

Car Specs:

Engine: 3.0 Liter 24 Valve V6, 194 Horse Power
Transmission: Automatic with Over drive
Interior: 6 way power adjustable passanger and drivers seat, Power tilt/slide moonroof, Power mirrors, Power windows, door locks, Leather seats, Leather-wrapped steering wheel and shift lever, AM/FM Cassette/CD player, Premium JBL sound system with 6 speakers (2 need replacing :-\
Exterior: Cashmere Beige paint, 15" aluminum alloy wheels, Chrome-trimmed body.
Drivertrain: Variable-assisted power rack-and-pinion steering (it's super easy and super smooth), Anti-lock Break System (ABS), 4 wheel DISK breaks
Mods/After market add ons: Window tint, 32% front, 13% rear, Sylvania Silver Star head lights, APC super white front turn signals, Painted signal portion of tail lights with red paint to produce custom red tail lights. Interior Neon Light, Blind spot mirrors =T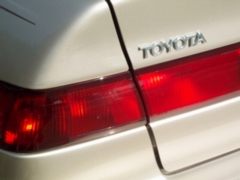 Here's one half of my tail lights painted red.Looks goodl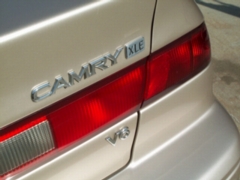 Here's my other tail light painted red.Looks really good!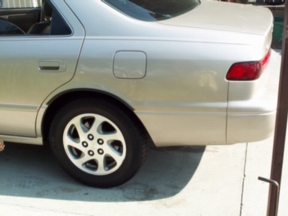 A semi-close up of my wheels.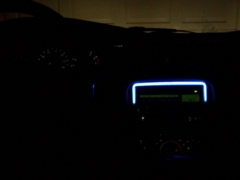 A pic of my NEW neon light. Click on it to get the "big picture!"















Blog: I bought a neon light for my car! Something I've wanted for a long time! While some people think it's rice, I don't! It's nice to have something giving off a cool blue glow inside. Plus, it blinks on and off to the beat of music. Some things on this site have yet to be updated like the links page. Drop me a line if you feel like it. Later.
Links EMail Other Sites

This site was last updated on 6/28/03. ALL pictures and content are copyrighted by me. Please do not use them without permission.